The Fongsoon Group
Since 1973, the Fongsoon group has been delivering quality work as contractors based in Singapore. We are a regional SME and serve both local and overseas customers. Our clients include multinationals and government bodies such as MHE-Demag, Demagtic Group, Keppel Group, the National University of Singapore and National Environment Agency.
If have any queries or wish to get a quotation, please don't hesitate to contact us.
Singapore

Fongsoon Engineering (S) Pte Ltd
Fongsoon Enterprises Pte Ltd
Entraco Engineering Pte Ltd

Thailand

Fongsoon Enterprises (Thai) Co. Ltd
Fongsoon Engineering (Thailand) Co Ltd.
Superform Co Ltd


Services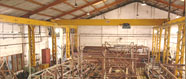 Our core competencies are in steel fabrication and formwork. We also provide Mechanical, Electrical, Marine and Civil Engineering services.
Projects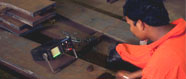 Fongsoon has an extensive work portfolio and proven track record in the industry. Here we list significant projects we have undertaken.